BOO!

What? You don't already know about the fastest, baddest and absolutely BEST fastest growing sport in the nation? But surely you've seen Whip It, the first movie out about the modern day roller derby revival?

Who cares what you know or what you've seen: you've GOTTA check out all women's flat track ROLLER DERBY at the DC Armory THIS SATURDAY on Halloween afternoon!

Scary zombies on wheels racing around the track is only part of the fun. Come watch the freaky Fright Attendants of Scare Force One take on the Cherry Blossom Bombshells in some good ole knock down drag out derby. Bring the kids before trick or treating, it's fun and games for the whole family on Halloween afternoon.

We've got a costume contest for fans, beer for the grownups, treats for tots and kids under 6 get in free!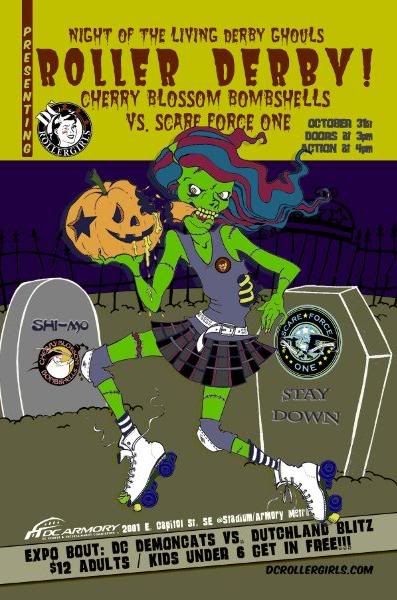 DC ROLLER DERBY - THIS SATURDAY
Halloween Afternoon!
DC Armory
Stadium Armory Metro
Doors at 3pm, bout at 4
Adults $12, Kids 6-11 $5, and 5 and under are free!


dcrollergirls.com

(want detailed information? hit up dcrg.media(at)gmail.com)